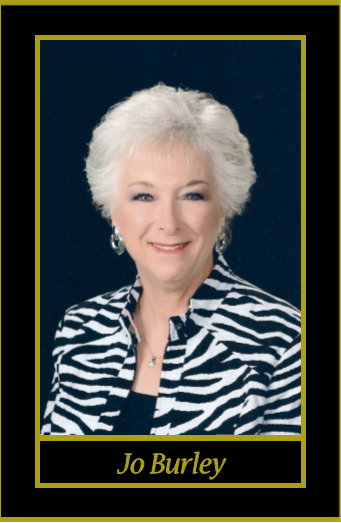 Jo Burley
Realtor
Town & Country Realty
Email: joburley@suddenlink.net
Cell: (979) 777-7999
I have been licensed in real estate sales for 40 years. My career started in Houston, Texas and continued after moving back to Bryan-College Station. I am a native of Bryan, Texas and love being a resident once again.
I have a deep love for Texas A&M University and have a son and daughter in law, who are both graduated with their master degrees from the TAMU Mays School of Business. I have volunteered many hours over the years serving on the Council of Athletic Ambassadors for the 12th Man Foundation, serving on the Board and as President of the TAMU Friends of the Sterling C. Evan Library, president of The Katy A&M Club and as a Board member of The Brazos County A&M Club and Houston A&M Mothers Club.
I have also had the honor of serving as a Director and Officer of the B-CS Board of Realtors. I am a Lifetime member of the Houston Livestock Show & Rodeo, member of The B-CS Newcomers Club, The Altar Society of St. Anthony's Catholic Church and The Women's Guild of St. Joseph's Catholic Church.